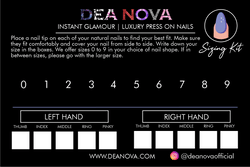 This sizing kit comes with 10 nails to help you accurately measure your sizes to order custom press on nails.
Reusable
Our nails can be reused twice by removing glue with an electric file.
Waterproof / Long Lasting
Our patent pending Nail Armor strips prevent random pop offs of press on nails. The material prevents nail oils from reaching the press on nail and weakening the glue on the nail.
Damage Free
Our stay-on kits minimize damage with our special Nail Armor strips, preventing the glue from touching the nail bed.
Reusable 2+ Wears
No Random Pop-Offs
Extra Long Lasting
Waterproof
Easy To Apply/Remove
Damage Free